Discover Dive :
$110.00 per person
Trying to dive for the first time has never been easier! Just easy, safe fun and the opportunity to explore Roatan's anazing reef like you've never done before.
This 2-3 hour program allows you to enjoy diving to a maximum of 40 feet/ 12 meters, guided by an experienced PADI instructor.
The program consists of a simple presentation in which you'll learn the basics of SCUBA diving, a shallow water practice session to get acquainted with equipment and underwater signals and a real open water dive on a beautiful reef teeming with marine life.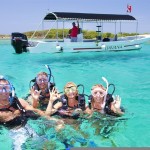 Discover Dive :
All excursions include round trip transportation from both cruise ship terminals.